---
►

March 25th 2020- New Boy George Single "Isolation" Out Now!
A brand new track "Isolation" from Boy George was released on Boy George's Sound-Cloud page. "Isolation" is a song that George had written last year. Boy George is currently shooting a music video for the song. The music video is being produced by the talented Dean Stockings who also just recently did Boy George's "Clouds" music video. The song "Isolation" seems to fit us all perfectly for the current times we are all in for the Corvid19 virus. Here is George's Tweet from a few days ago! Go have a listen.
Isolation by Boy George
And it got me thinking about isolation
And it got me thinking about isolation
And it got me thinking about isolation
---
►March 24th 2020 - New Remixes added to BGF Sound Cloud page
We've added a bunch of rare and unreleased remixes for you today. Including some never before heard remixes.
Here is an unreleased remix to Generations Of Love (Airscape Airplay Remix) this remix was scheduled to be on the CD single but did not make the cut when it was released in 1998. This remix was never released but only made available on a strictly limited CDR promotional copies through UMC label.
---
A unique remix to "Turn 2 Dust" done by the master Kevan Frost.
---
An unreleased remix to the song "Brand New" (Star-gate Remix) was schedule to be the next and final single off "Ordinary Aline" but shelved.
---
The single "Amazing Grace had over 15 plus remixes done for it. Many were commercial released and others were not included on the official CD single release. This remix done by Jerome Farley & Floor One was cut from the release and shelved along with the "Emerson & Honeywell Remix" which we will be presenting to you very soon.
---
►March 6th 2020 - New Boy George Single Clouds
The brand new single from Boy George "Clouds" is out now. Order your copy today. Available exclusively on Itunes, Spotify and Amazon.
"Clouds" is the first single taken from the fourth coming new Boy George solo album "Geminis Don't Read Manuals" which is expected to be released later this year.
"Clouds" is also available exclusively on a limited edition CD single which is sold at Hottwerk Buy BOY Here.
1. Clouds 4:07
"Let me start with a question. Must everything be explained? I am trying, as an artist, to allow the listener to discern for themselves the sub text or subterfuge! Or the social, or emotional context.
I recently got a message from someone I worked with and was pretty close to. The tone of the message was attack. A one sided attack with zero consequence to anyone else but me.
If he had tried to find a middle way, we could have had hope but I was left thinking 'It's his grey cloud to carry around. Not mine.'
Hence this song about clouds. Which, like humans, drift in and out of your life.
Sometimes there is no response but that of a song. A song can say what you cannot clearly speak. It can say it in a simpler fashion. With a sweet, mournful melody."
- Boy George Clouds
---
►March 2nd 2020 - New Boy George Music Video Clouds Is Out Now!
A new Boy George solo album is coming. The album has been remixed by Benny D . The new album title has yet been released. George announced today the first new track from the untitled album.
The new single "Clouds". It's a dark haunting track but yet very poetic track from him. The new music video was also announced today on Youtube. This is by far one of George's best masterpieces.
Clouds
The metaphors are endless
Some onomatopoeia
A bunch of oxymorons
Trying to convince us of their view
And what can be said
About what happened yesterday
There's worse going on
If you really want to know
Parting clouds
May clear the sky
And let the sunshine
Fall on us again
They're just clouds
Full of rain
Big grey clouds
Filled with pain
Hanging over you
Hanging over me
They're just clouds
It's all they'll ever be
It's all they'll ever be
Are you telling me your sorry
Or is it still me that you blame
Do you shake like Little Richard
Every time you hear my name
Playground stuff
Instead of love
The day I stole Laura
Was the day I grew to adore her
Parting clouds
May clear the sky
And let the sunshine
Fall on us again
They're just clouds
Full of rain
Big grey clouds
Filled with pain
Hanging over you
Hanging over me
They're just clouds
It's all they'll ever be
Hanging over me (Say 2 x)
They're just clouds
Clouds
---
►February 20th 2020- New Boy George Single Killer Is Out Now!
Boy George will be releasing a new single "Killer" which will be featured on the new Adamski EP called "Free To Kill Again" The EP will be release on March 21st 2020. The EP is expected to have 10 new remixes for the track "Killer" to celebrate the 30th anniversary of the song . The 10 new remixes will feature Boy George and Nina Hagen on the new EP. The CD single will be released in April. A music video has also been done by "Lady Pat"
---
►February 15th 2020- New Boy George Song premiere at Faenas Hotel Miami FL
There is a brand new song out written by George and Roy Hay along with Amanda Ghost called "The Cook, The Thief , The Wife And her Lover" is out now on George's sound cloud page. The song is featured in the new stage production at The Faenas Hotel in Miami. If you live in Florida and have a day to see it go ahead and book your tickets now. Tickets
Boy George on writing this new song .....
"I had a field day writing this song," shares music icon Boy George on his original theme song for The Cook, The Thief, His Wife & Her Lover open now at Faena Theater.
"It's not on the menu, but there is a price. A dinner date with destiny, that money cannot buy." Consider those lyrics an invitation to the hottest ticket in town where you'll find yourself seated in the blood-thirsty dining room of Le Hollandais in a completely immersive theater experience.
Boy George was commissioned to write an original theme song for the show's final number, which splices together a litany of pop hits. "I was delighted to be asked," says the multi-hyphenate artist. "I remember when the film first came out. It was fun to go back and rewatch it and try to come up with a song that summed up the whole story as succinctly as possible", he added.
The spellbindingly sadistic story line tells the tale of a dramatic love triangle narrated by the restaurant's omniscient waiters that unfolds between a ruthless restaurant owner, his wife and her lover.
"I call the chorus the 'Bowie Mambo'," he laughs, referring to David Bowie (one of his chief musical influences also known for his theatrical flair) and the track's Latin rhythm. The tune has a markedly tango beat, an intended homage to Faena's Argentine owner, Alan Faena. "I wanted it to be as dramatic as possible to go with the setting of the show," he added.
Throughout the performance, actors blend seamlessly with Faena Theater's waitstaff as they wend their way through the audience, drawing guests into the gripping logomachy and mayhem that challenges them to question their deepest human instincts. The show's sybaritic three-course menu comes from Miami culinary luminary Michelle Bernstein—a Michelin-starred James Beard winner—who puts a distinctly Floridian twist on classic French and European cuisine.
Blurring the lines between fantasy and reality, the boundary-pushing production keeps viewers on the edge of their seats until George's song closes out the performance in a show stopping crescendo. "People will leave feeling emotionally and mentally stimulated," he says, and without a doubt, humming the smash song's catchy chorus for days to come.
---
New Boy George track "One Tear"
There will be an all-new track from Boy George on the brand new Paul Weeler album 'A Kind Of Revolution' The song "One tear" was recorded around 2014 and will finally see the light of day on the new album. You can order the song which will be out on May 12, 2017, on Itunes and Amazon.com. One Tear will be featured in three mixes.
One Tear (Club Cut Proof Of Kybert Remix)
---
Boy George Fashion Model for DIOR
Boy George appears to be in the midst of having a mini professional renaissance. While for some of us, the man who crooned, "Do you really want to hurt me?" from beneath half-closed, heavily-shadowed eyelids never went away, he's now reaching a whole new generation thanks to a roll on The New Celebrity Apprentice and his handful of cheeky one-liners during his cameos on the new season of The Real Housewives of Beverly Hills. But while the pop star known for his gender-bending take on fashion has long been a muse of avant-garde designers, for the first time he'll actually get to star in his very own campaign, serving as the new face for Dior Homme's Spring campaign.
The menswear brand released the images for their new ad campaign early Tuesday morning, featuring their Spring/Summer 2017 collection creative directed by Dior Homme's head designer Kris Van Assche, styled by Olivier Rizzo, and photographed by Assche's longtime collaborator, Willy Vanderperre in the studio and the streets of Paris.
In the pictures, Boy George wears his signature tall fedora festooned with pins, much like his black button-down which has been layered under a crisply tailored blazer and black leather bondage-inspired suspenders.
---
Boy George WINS as 1st Project Manger on The New Celebrity Apprentice!
What a start to The New Celebrity Apprentice! Our hero and ambassador, Boy George, kicked off the season as the first winning project manager, earning $50,000 for Safe Kids Worldwide.
Boy George's charm, warmth, and creativity shined throughout last night's two-hour
premiere
. He led Team Arete in their task to
organize
an event highlighting the five-minute
Tyover
, created by the amazing Tyra Banks. You have to hand it to the fellas. I loved seeing all those tough guys (and even Jon Lovitz) apply makeup with such a gentle touch. It's true: they came, they saw, they contoured.
And what a pleasure to see Boy George in the studio working on a song that helped Team Arete bring home another victory. Congratulations to the hilarious Jon Lovitz and St. Jude, a wonderful charity.
As promised, Governor Schwarzenegger was tough but fair. He stressed the importance of going all out for something you believe in. That's exactly what we do
at
Safe Kids to save lives every day. As Boy George said, there's nothing worse than losing a child to an injury that could have been prevented. We are empowering everyone to protect kids at home, on the road and at play. Join us and say "I'm In" to get your digital Safe Kids Kit to help us protect kids.
---
Generations Of Love 2017
Generations of Love has been remixed and remodeled for the new year with exclusive remixes done by Christopher Poxx and Phunx Investigation along with the Tommy Novy remix. The club anthem is expected to be big on the dance floor this summer. This will mark the 100th remix that has been done for the massive single. Generations Of Love was a huge club anthem in the early 1990's it went to No.11 on the US club play charts and became a Top 40 hit in the UK.
Jesus Loves You's 'Generations of Love' a highlight from 1990. After the mayhem and mania of the 1980s, a decade he can feasibly claim to have owned, Boy George kicked off the '90s with the more understated, criminally underrated Jesus Loves You project. To this day it sounds like a paean to a lost generation, a huge regretful sigh. Here new collaboration between Boy George and Cristian Poow on this club anthem The hit song including remixes by Tom Novy and Cristian Poow and Phunk Investigation.
Release date out on December 5, 2016
https://www.beatport.com/release/generations-of-love/1865065
Tracklist
1.

Generations Of Love (Cristian Poow Remix) 6:58
2.

Generations Of Love (Tom Novy Remix) 5:34
3.

Generations Of Love (P.I. Mix) 7:16
---
Hold On New Single
George has teamed up with DJ/Producer Roger Sanchez on the house track Hold On. The new single has been released on Itunes with two releases.
Hold On (Radio Edit) and Hold On (Extended Mix)
Tough Love & Roger 'S-Man' Sanchez combine again this time with Boy George to bring a deep and rolling anthemic record sure to be a club hit! Release out on
November 4, 2016
---
Culture Club Encore World Tour 2016
The second leg of the Culture Club 2016 world tour will begin its second leg on After a short break the boys will be taking to the stage again in Canada and the US in November, and New Zealand and the UK in December.
October 26, 2016, 8:00 pm CULTURE CLUB, BALOISE SESSION, BASEL, SWITZERLAND
October 28, 2016, 5:00 pm

CULTURE CLUB, UNITY FEST, CAPE CORAL, FL, USA
October 30, 2016, 1:00 pm

CULTURE CLUB, UNITY FEST, VIRGINIA KEY, MIAMI, FL, USA
November 1, 2015, 7:30 pm

CULTURE CLUB, THE ARENA TD PLACE, OTTAWA, ON, CANADA
November 2, 2016, 7:30 pm

CULTURE CLUB, SOUND ACADEMY, TORONTO, ON, CANADA
November 3, 2016, 7:30 pm

CULTURE CLUB,

GENESSEE

THEATRE

,

WAUKEGAN

, IL, USA
November 4, and

5th

2016 7:30 pm

CULTURE CLUB, TREASURE ISLAND RESORT, RED WING, MN, USA
November 6, 2016, 7:30 pm

CULTURE CLUB,

MTS

CENTRE, WINNIPEG, MB, CANADA
November 9, 2016, 7:30 pm

CULTURE CLUB,

SEGERSTROM

CENTRE, COSTA MESA, CA, USA
November 10, 2016, 7:30 pm

CULTURE CLUB, PAC, THOUSAND OAKS, CA, USA
November 11, 2016, 8:00 pm

CULTURE CLUB, PALM SPRINGS, CALIFORNIA, USA
November 12, 2016, 7:30 pm

CULTURE CLUB,

TUACAHN

AMPHITHEATRE,

IVINS

, UT, USA
November 14, 2016, 7:30 pm

CULTURE CLUB,

PROSPERA

PLACE, KELOWNA, BC, CANADA
November 16, 2016, 7:30 pm

CULTURE CLUB, SAVE-ON-FOODS MEMORIAL

CTR

, VICTORIA, BC, CANADA
November 18, 2016, 7:30 pm

CULTURE CLUB, JACK SINGER HALL, CALGARY, AB, CANADA
November 19, 2016, 7:30 pm

CULTURE CLUB,

REXALL

PLACE, EDMONTON, AB, CANADA
November 20, 2016, 7:30 pm

CULTURE CLUB,

CONEXUS

ARTS CENTRE, REGINA, SK, CANADA
November 27, 2016, 8:00 pm

CULTURE CLUB, CENTRE IN THE SQUARE, KITCHENER, ONT, CANADA
November 28, 2016, 8:00 pm

CULTURE CLUB, MAYO CENTER, MORRISTOWN, NJ, USA
December 2, 2016, 7:00 pm

CULTURE CLUB,

HORNCASTLE

ARENA, CHRISTCHURCH, NEW ZEALAND
December 4, 2016, 7:30 pm

CULTURE CLUB, VECTOR ARENA , AUCKLAND, NEW ZEALAND
December 6, 2016,

Jupiters

Gold Coast
December 8, 2016, Derwent Entertainment Centre , Hobart Canceled
December 9, 2016, Seppeltsfield, Barossa Valley
December 10, 2016, Hope Estate , Hunter Valley
December 11, 2016, Sidney Myer Music Bowl , Melbourne
December 14, 2016, 7:30 pm

CULTURE CLUB, SSE ARENA, LONDON, UK
---
Christopher Street New Song
Brian Kennedy appears to be

duetting

with his hero Boy George- after they spent a day together in a studio. They recorded the classic Brian Kennedy track ' Christopher Street" on June 18, 2014, which will appear on the new Essentials Album by Brian Kennedy which is available at Amazon.com for purchase.
The former Voice judge jetted across to London to work with the star and made sure to take a number of

selfies

.
The ex-Eurovision star said: "In the studio today with Boy George on a very special project. After much singing, we then had a selfie pout-off!"
---
Culture Club Church Of The Osaka Mind 2 CD set gets released in Japan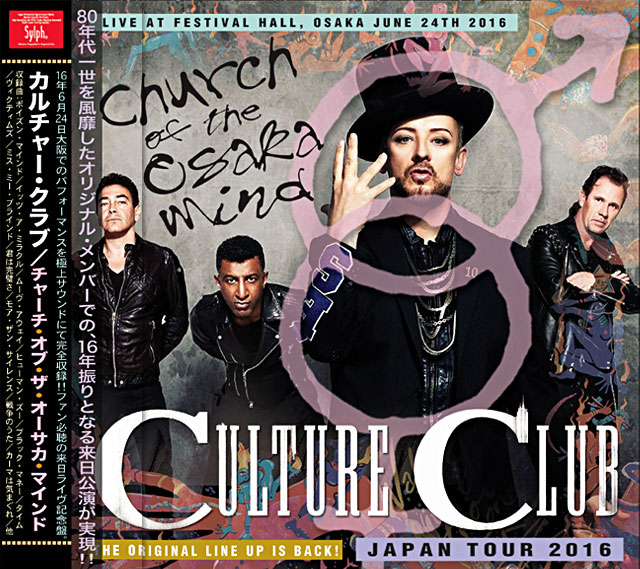 Disc-1
02. Church of the Poison Mind
10. Time (Clock of the Heart)
04. Do You Really Want to Hurt Me?
08.

Starman

(David Bowie cover)
09. Get It On (Bang A Gong)(T.Rex Cover)

-Incl

. Band Intro.-
Culture Club's The Greatest Hits CD collection gets released in Japan with SHMD
Led by the notoriously androgynous Boy George, Culture Club took the world by storm in the 1980s. Their mix of pop, soul, and reggae may not have been unprecedented, but it certainly was a refreshing break from the scads of sound-alike New Wave bands cluttering up the airwaves.
A singles band on pareil, Culture Club is well served by GREATEST HITS is RELEASED on June 8, 2016, a concise culling of their career highlights. While they were certainly not without their festive moments (the lilting, calypso-tinged "I'll Tumble 4 Ya," the sing-along sunniness of "Karma Chameleon"), George and his pals were at their best on the more melancholy, midtempo tunes like ("Do You Really Want to Hurt Me;" and "Time (Clock Of The Heart), where the Boy really got a chance to burn his torch at both ends.
Three Decades later, Culture Club's best moments still stand up a hell of a lot better than many of their contemporaries' records. They are touring Worldwide this year on the 2nd leg of the "Tribes World Tour 2016 "
Culture Club Greatest Hits album reissue with the SHM-CD format. Comes issued with song lyrics and a 6-page picture CD booklet.
Do You Really Want To Hurt Me
Time (Clock Of The Heart)
Church Of The Poison Mind
The first two Culture Club albums get a 180-gram release on colored vinyl limited edition to 1000 copies!
Culture Club's Kissing To Be Clever was released on Music On Vinyl

MOVLP1596

, by Universal Music Group with the ID

MOVLP1596

. It was issued as a Vinyl, LP, Album, Limited Edition Numbered to only 1000 copies. Issued on a Yellow, colored vinyl at 180 Gram. Released in UK & Europe on July 18, 2016
Features the original 1982 album format omitting Time (Clock Of The Heart)
Culture Club is on tour this summer playing to SOLD out shows and delighting fans across the globe. This year Music On Vinyl will be issuing a special collectors edition of Culture Club's debut album Kissing To Be Clever on Yellow vinyl. The album will contain all 9 original tracks that were issued only in Europe before the US version added the new single 'Time (Clock Of The Heart). This was one of many albums from Culture Club that went multi-platinum.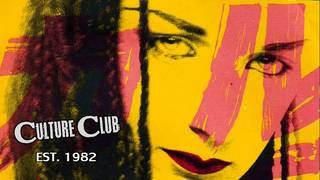 Features
180-gram audiophile vinyl
Includes Insert with Song Lyrics
The first pressing of 1000 numbered copies on yellow vinyl
2.

I'M AFRAID OF ME (REMIX)
3.

WHITE BOYS CAN'T CONTROL IT
4.

DO YOU REALLY WANT TO HURT ME
Culture Clubs Colour By Numbers Gets a Surprise Coloured Vinyl
"Colour by Numbers was Culture Club's most successful album, and can even be considered as one of the most popular albums from the 80s in general. Scoring five Top 10 hit singles, this set of songs dominated the album and singles charts for a full year and a half (86 weeks in total), both in the US and in Europe.
With its infectious songs, and outrageous music videos that were played all over MTV, and Boy George as a charismatic appearance, the band was a media magnet back in 1982,1983 and 1984. The vocals from Boy George sounded as warm and soulful as ever, resulting in both the burning down the house churner "Church Of The Poison Mind" and the irresistible county catchy "Karma Chameleon".
In the 80s music was, in many cases, flamboyant, fun, sexy, soulful, colorful, androgynous, and carefree, and this album captured that spirit perfectly. A must for any collector of 80s music, and the artistic and commercial pinnacle of a band that still attracted new fans 30 years later."
180-gram audiophile vinyl
Includes insert with song lyrics
First pressing of 1000 numbered copies on "colored by surprise"
colored vinyl - Red, Gold, and Green.
5. That's The Way (I'm Only Trying To Help You)
1. Church Of The Poison Mind